Compilation of all arguments in Supreme Court of India on August 21 shared by Crypto Kanoon
Hearing of Crypto case has resumed. Mr. Shyam Divan, Ld. Sr. Advocate started his arguments for RBI. Most likely the arguments will conclude today.
European Union directive of May 2018 is being referred to which also discussed the concerns involved with Crypto and biggest being the problem of anonymity.
Counsel now requests that court to come to RBI counter affidavit filed in reply to IAMAI petition.
At page 59 and 60 of the counter affidavit the counsel starts reading the incidents of hacking happened with various exchanges worldwide and publications regarding these incidents.
Also reads page 108 for various comments by world famous personalities against bitcoin and Crypto.
Now moves to Ministry of Finance reply to the Petition.
Now the Counsel moves to the Petition of IAMAI.
Counsel says that the figures (number of users, revenue etc.) mentioned on page 7 of IAMAI petition is sizable enough to alarm the regulator to take action although its overall size is negligible.
After referring to certain paragraphs in Rajdeep singh's petition, now the counsel moves to relevant statues/ legislations.
A document containing discussion before the enactment of Payment and Settlement Systems Act, is being read.
This document mentions the necessity and concerns of enacting payment and settlement systems Act 2007.
Unauthorized alternate of payments were one of the concerns.
Now reading statement of objects and reasons of Payment and settlement Systems Act
Courts attention is drawn to various definitions in PSS Act, 2007 including payment system. Justice Nariman points out that payment means that it has to be through legal tender always. Counsel nods and says and Crypto is an alternative to that.
Justice Nariman interrupts and says that it is not RBIs case that exchanges are covered by PSS Act so this is immaterial. Counsel answers that prima facie they are not, but there is potential threat to undermine monetary policy.
Counsel refers to Section 10 (2) of PSS Act which provides power to RBI to issue guidelines in reference of any payment system.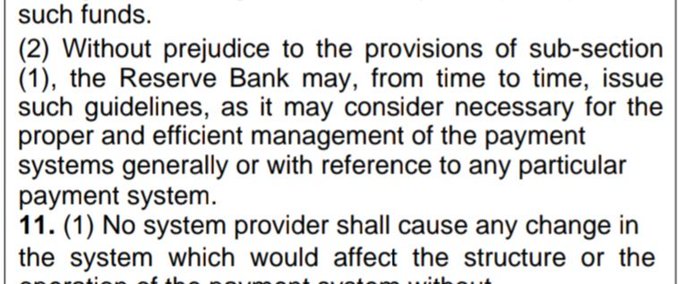 Also refers to Section 18 of the PSS Act emphasizing that RBI has power to issue policy in order to manage or operate its payment system and in public interest etc. Points out that RBI has wide powers to regulate its entities is there is a threat to the payment system.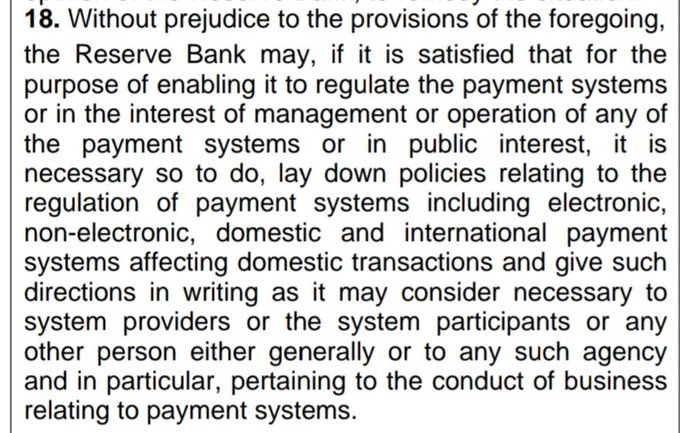 Counsel now refers to RBI Act provisions in Section 45J and 45L and points out that RBI has wide powers with regard to the action its has taken in the form of banking ban.
Now the counsel moves to Banking regulation Act and reads out Section 36 1 a to points out that it covers the scope of banking ban circular and RBI is well empowered to do it.
Now the Counsel turns to Foreign Exchange Management Act and reading out various provisions of the same including Section 4 and Section 3b. Definition of currency, foreign currency etc.
Court rose up for the lunch. Matter will continue post lunch Thank you.
Stay Tuned.
The court has resumed. RBI counsel is referring to a judgment. Citation of the judgment is: 1992 2 SCC 3434
2010 (10) SCC 1 - ICICI Bank v. Official Liquidator The above judgment is being read by the counsel now in RBIs favour.
The above judgment explains the provisions of Banking Regulation Act.
Reads that action under 35A of Banking regulation Act has 'Statutory Force of Law'.
Keshav Lal Khemchand v. Union of India i.e., 2015 (4) SCC 770 Another judgment is being read by the counsel.
Argues that RBI circular is in supplement to the statutory provisions enunciated by Banking Regulation Act which has to be considered to be having statutory force.
Argues that RBI was fully aware about the risks etc. with Crypto, the it was incumbent on it to take action under the delegated legislative power it has been conferred with. Star India Judgment is being referred to i.e., 20__ 2 SCC 104
Justice Nariman asks which provision says that you have to be 'satisfied'? Counsel answers Section 35 A of Banking regulation Act and Section 18 of PSS Act, 2007.
Judge asks so this satisfaction is not in connection of you being an administrative authority but in the shoes of a legislature's delegatee? Counsel says yes since RBI has to deal with the challenges posing threat to the established system.
More judgements are being read by RBI Counsel in their favor.
RBI counsel answers the following arguments: Vagueness of Circular - RBI has sufficiently described crypto in various docs.
Cheeze Burger Argument: RBI powers is well defined and can be exercised when there threat to monetary, fiscal and financial policy.
Regulation by other countries: India will make laws as per its needs. Mr. Divan concludes his arguments.
judge has asked the Petitioners that RBI is an expert body which has taken decision on the basis of a study, who are we to interfere in their policy? The question is not whether it is arbitrary or not, bit whether they can legislate or not when they are 'satisfied' under 35A!
Counsel of Petitioner Rajdeep singh & Ors. started arguing. arguing how RBI changed its stance from caution to prohibition.
What happened is when the Crypto was discussed for the first time in budget speech by Mr. Jaitley, it is when they changed their stance.
RBI is bereft of any empirical data which supports their stance that they are 'Satisfied'. There is no data at all which they rely upon to say that it is threat to our monetary stability. The argument of satisfaction is baseless.
Mr. Ashim Sood has started now. Hit likes and retweets for him guys!!!
Mr. Sood started with that RBI circular is irrational and a result of no application of mind. there is manifest arbitrariness.
Justice Nariman questions they are the expert body, they monitored the position, in the realm of economic policy and financial policy they have taken action, so what do you have say on the point of satisfaction? Mr. Sood answers My Lord yes it is a question but
the point of satisfaction can be considered when there is a data to substantiate that. Secondly, satisfaction of one authority cannot be allowed to be taken effect from the satisfaction of other authority. Meaning thereby, RBI cannot take action based on the study held by others.
Argument of Ponzi scheme and consumer are in trouble, are merely statements which cannot be substantiated with data.
Reading out Ministry of Finances advisory. Which says that two things raise concern. 1. its use as payment system 2. its use in illicit activities. So the Govt. has also not advocated about complete ban. it only said that vices should be eradicated/ regulated.
Justice Nariman directs the counsel to turn to the representation filed by the exchanges with RBI. Where they have said that there is no need to ban. And also read the reply given by RBI to it.
Mr. Sood reads out the suggestions given to RBI by exchanges. That Money laundering Act can be made applicable to exchanges as intermediaries making them responsible for reporting directly. or enjoining on banks to make additional requirements for exchanges.
Mr. Sood refers to table which enumerated rbi concerns about crypto. In this table exchanges had addressed each of the concern and suggested ways for that.
Judges are discussing among themselves and court room silent.
Now justice Nariman questions RBI why you have not properly responded to the representation. You just said that we are forwarding to Govt. Angrily says this is not an answer.121592
Justice Nariman Reiterates further that this is mot an answer Mr. Counsel. Do you still want to give an answer?
Exchanges are not asking to uplift the ban but they are only asking you to reconsider. If you dont give answer to it, I will pass the judgment.
Case takes the most unlredictable turn. Justice Nariman directs that RBI must respond to the representation in the manner appropriate. Offers to defer the case for 2 weeks as part heard, let the answer come on reconsideration of banking ban by RBI. RBI has agreed.
Court orders: After hearing arguments we are of the view that detailed representations by exchanges purusant to this court's order 17.05.2018, have not been answered point by point, therefore RBI to reply them with in 2 weeks. SG to furnish various docs within 1 week.
Hearing ends here. Court to rehear the arguments on 25th September, on the reply/ reconsideration to be given by RBI to the exchanges' representations.